Ozone can clean polluted water
A collaboration between the company O3 Nordic and researchers at DTU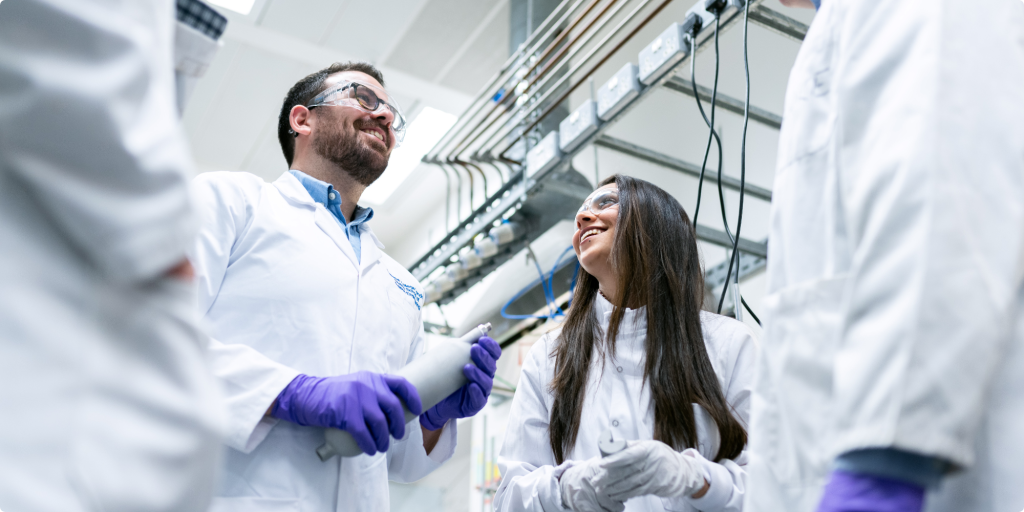 A collaboration between the company 03Nordic and researchers at DTU has shown that ozone is effective in removing chlorinated solvent pollution from water.

The technology company 03Nordic has been working for the past 8-10 years to develop a new system for cleaning contaminated water. Around 20,000 sites in Denmark alone are estimated to be contaminated by former industry at the site Leaching from these sites can be a threat to groundwater and is therefore pumped away with a remedial well and treated before being released back into the natural water environment.

03Nordic has so far worked with an electricity treatment system consisting of 5 metre high tanks. However, there was a strong desire to rethink the system. so that it could more easily be housed in a regular building or placed in a container, thus providing a mobile solution.

"We therefore collaborated with researchers at the Technical University of Denmark to develop a new version of our existing water purification system, which has now been reduced to 1.8 metres in height and at the same time has been technologically improved in several respects," says Nilspeiter Agerholm, CEO of 03Nordic.

The right dose of ozone is essential.
Incollaboration with the Capital Region, the researchers and the company have set up a test system at a borehole in North Zealand, where point source pollution is already being treated. Here, DTU has carried out tests to determine the optimum amount of ozone to add to the contaminated water and how best to dissolve the ozone in the water to remove the chlorinated solvents.

"We have previously worked with ozonation of wastewater, but not with contaminated groundwater" We have therefore had to carry out a number of additional tests in order to determine the amount of ozone that needed to be added to the water in order to achieve the desired purification," says
- Kamilla Marie Speht Kaarsholm. Researcher at DTU Environment.

Oneof the challenges has been that the water, in addition to containing chlorinated solvents from a former metal industry on the site, was very clean. This made it difficult, for example, to use fluorescence as a measurement method, where light is used to measure the turnover of ozone in the water.

Ozone is aggressive against pollution in water. where it is able to remove chlorinated solvents. At the same time, it is a type of air that is harmful to humans. It must therefore be 'used up' in the polluted water so that an excess does not bubble to the surface. This requires a delicate dosage, so that the amount is neither too high nor too low.

"We had to bring a lot of equipment from our laboratory at DTU to the experimental system in order to get the right calibration and carry out the necessary analyses to prove that the new water purification system works as intended," says Kamilla Marie Speht Kaarsholm.

On the other hand, the results of the effort have surprised the researchers.
"We did not expect that so little ozone would have to be added before it could remove a large proportion of the chlorinated solvents, for example all the vinyl chloride, in the water. In my opinion, this would make it quite obvious to use ozone treatment in Grindsted, for example, where vinyl chloride is a major problem," says Kamilla Marie Speht Kaarsholm.

Just needs power
The advantage of purifying water using ozone is, firstly, that you can set up a treatment plant that is largely maintenance-free and can run without stopping for the next 6-8 years. It only requires electricity to power an ozone generator.
Secondly, the use of carbon filters for water treatment, which is both costly and environmentally damaging, can be reduced. Measurements from the trial system have shown that vinyl chloride can be completely removed by ozone. The same is true for about 80% of the chlorinated solvent, TCE.

"The last part has to be captured in a carbon filter, whose lifetime will however be extended considerably when most of the pollution is removed by ozonation," says Nilspeiter Agerholm.

The project between DTU, the Capital Region and O3Nordic has been running since 2017 and will be completed with a report containing the results of the analyses carried out by DTU.